There's nothing like a birthday party at Gymnastics of York Manchester! You show up… and we provide all the fun!  With a spring floor, a tumble track, and even more equipment, Gymnastics of York Manchester is transformed from a training facility to a FUN factory. Parties include 1 hour of coach led activity and open gym followed by half an hour in the lobby for your cake, presents, and food.
Prices:
$100 for GY members

$130 for non-members

Up to 12 school age kids or 10 preschool kids

Additional guests are $5 each

Additional 30 minutes is $25

$25 deposit holds your spot
Available times:
Saturday:    10:15-11:45,  12:00-1:30,  1:45-3:15,  3:30-5:00,   5:15-6:45,   7:00-8:30
Sunday:  10:00-11:30,  11:45-1:15,  1:30-3:00, 3:15-4:45,  5:00-6:30,  6:45-8:15

We can also bring the party to you with our TumbleWheels Gymbus (ages 8 and under)!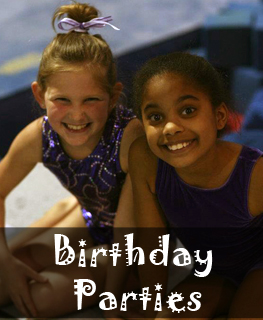 Testimonials
To Whom It May Concern:
Just wanted to let you know that Michaela was wonderful. Sarah had a fabulous 8th birthday. My husband and I were very impressed. We loved the whole adult's can join in on the fun and the relaxed atmosphere (I didn't have to rush out the door right at 4pm). Gymnastics of York was a great venue and some of our guests did not know about your facility, so hopefully, word will spread more about your wonderful place.
Thanks again!
Sincerely,
D.K.